Trial for Stroud to London tourist train service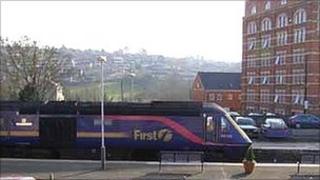 A special rail service between London and Stroud is being launched to promote the town as a tourist destination.
The Stroud Special is offering visitors discounted off-peak return fares, free drinks, town guides, maps and discounts for local businesses.
The six-month trial scheme has been set up by Stroud civic groups and rail company First Great Western.
Stroud's Conservative MP, Neil Carmichael, said local organisations were "very excited" by the scheme.
"It's really actually got legs - a lot of organisations in Stroud are very excited about it and they're supporting it," he said.
"The idea has arisen through the work of the Stroud Common Wealth and the Stroud Chamber of Commerce and is an excellent opportunity to reshape, expand and develop the way tour operators develop services for visitors to London and Gloucestershire.
"I think it's going to be a really good news story for Stroud and the surrounding villages."
The launch of the service has been timed to coincide with Stroud's Festival Fortnight which runs until 18 September.