Landmark Fleece Hotel in Gloucester revamp plan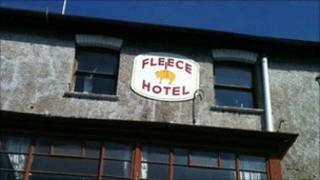 A landmark hotel in Gloucester is to receive a £350,000 facelift funded by its owner, Gloucester City Council.
The Fleece Hotel on Westgate Street was passed into the ownership of the council, after the South West Regional Development Agency was abolished.
Leader of the City Council, Paul James, said: "We want to restore it to bring it back into use and we want to do that as quickly as possible."
Parts of the building are Grade I listed and are over 500 years old.
Senior building surveyor at Gloucester City Council, John Slaney, said: "Unfortunately over the years it's been chopped and changed around.
"It's also been messed up with different surfaces being put onto the building which has obscured the true fabric and structure of the building that's really here. But if you go into the undercroft you can see the 12th Century vaulted ceilings."
The council is now looking for a partner to help carry out the refurbishment.