Gloucestershire RSPCA warns about 'dangerous' gannets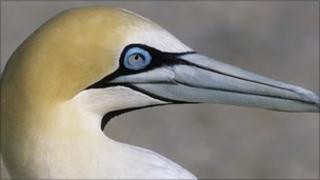 People in Gloucestershire are being warned not to handle seabirds that have been blown inland by strong winds.
The RSPCA rescued two exhausted gannets spotted in fields in Moreton Valence and Quedegely on 9 September.
They are thought to have been hunting up to 150 miles away at Grassholm Island, off the coast of Pembrokeshire.
Suzie Smith of the RSPCA said: "In the wrong hands they can be very dangerous and earlier this year a man was pecked in the eye when he tried to help one."
She added: "I'm concerned that as they are not common in this area, people will be unfamiliar with them and the risks they pose."
Adult gannets are white with a cream head, black wing tips and pale blue markings around their eyes.
As large birds, they can measure 100cm from head to tail with a 180cm wingspan. They have a powerful 15cm beak.
The two rescued gannets were taken to the Vale Wildlife Hospital in Beckford to be treated before being released back into the wild.