Archbishop of Canterbury to visit Gloucester in July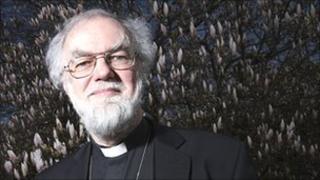 The leader of the Church of England, the Archbishop of Canterbury, is to make a three day visit to Gloucester.
Dr Rowan Williams will visit the county in July 2012 - his first trip to the Diocese in his official capacity, since he was enthroned in February 2003.
A programme of events will celebrate the Archbishop's visit including a public celebration at Gloucester Cathedral.
The Bishop of Gloucester announced the visit will take place on 20-22 July.
The Right Reverend Michael Perham said: "It will be an honour to welcome our Archbishop to the Diocese of Gloucester, to listen to him and to share with him some of the wonderful work being done by Christians across the area.
"We are confident that this visit will do much to encourage the life of the Church locally, as well as giving people an opportunity to ask questions and find out more about the Christian faith."