Car parts stolen over metal price in Gloucestershire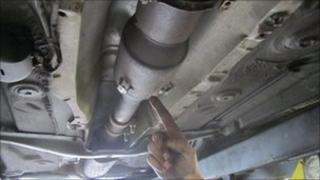 Catalytic converters have been stolen from vehicles in Gloucestershire because of the high value of metal, police have said.
More than 40 thefts have been reported since the start of August with vans targeted at industrial estates in Gloucester and Bishop's Cleeve.
Police said they believe the parts are being stolen and then sold, for cash, to scrap metal dealers.
The force said the thefts were also harming the environment.