Gloucester family's Russia trip cancelled at last minute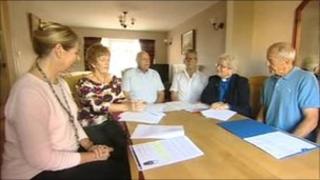 A family from Gloucester who were due to fly to Russia have had their £18,000 trip cancelled at the last minute.
The group of 11 booked their flights and a cruise through Russian Gateway, based in Leamington Spa.
A week before departure, the group was asked to delay the trip until 2012. The group declined and have started legal action.
Alan Steel, of Russian Gateway, said it had a dispute with its suppliers and would refund the group in full.
Mr Steel said: "We have lost this amount of money in Russia. We had a lot of money lying in Russia which unfortunately we had to pay.
"We are definitely going to refund them, the only question is when. We'll be doing it as soon as we physically can."
The group had planned to fly to St Petersburg before cruising to Moscow, with two other family members flying in from Canada to join them.
One of the group, Carol Adams, who booked the trip said: "You just can't imagine the disappointment, the upset and how fraught we've been all week trying to sort something out.
"It was a group of us who were really going to enjoy the sights and have a wonderful time together."
Ms Adams said she found the company following several good reviews in national newspapers and checked it had Abta and Atol numbers, both of which protect customers when travelling.
But she later discovered Russian Gateway's Atol number had expired and its Abta number was registered to another company.
Mr Steel said he accepted the company's Atol number had expired and was investigating why the Abta number related to a different company.
Ms Adams said: "We're pensioners. Lets face it we've worked long and hard all our lives to get this money and now we find that someone has gone off with it and we're not getting the holiday of a lifetime. It's really disgusting."
Abta was unavailable to comment.