Fire crews rescue cow from River Severn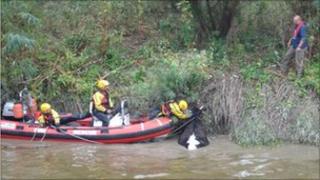 Fire crews have rescued a cow which fell into the River Severn in Gloucester.
Two cows fell into the river near Gloucester Prison at about 09:30 BST. The first managed to free itself but it took seven hours to rescue the second creature.
Station Manager Clive Webber said: "The rescue was extremely difficult as the cow was exhausted and unable to walk up the steep bank."
Both cows were uninjured in the rescue.