Concern for missing teenager Harini Payagala in Stroud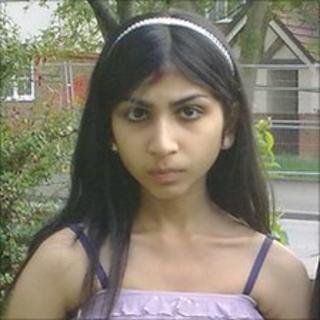 A teenage girl who weighs less than five stone (30kg) has gone missing in Gloucestershire.
Police say they are "very concerned" for the welfare of Harini Payagala, 17, from Richmond, in Surrey.
She went missing on Friday lunchtime. She is described as about 5ft tall, Asian, with black hair and young-looking for her age.
The police helicopter and dogs are searching the area. Police have appealed for information.
Harini was last seen wearing a long pink and white T-shirt and dark trousers. She also had a silver-coloured necklace with the letter "H" on it.
'Not streetwise'
Harini's mum, Mo, said her daughter was diagnosed with anorexia four years ago and had been receiving treatment in the Stroud area when she went missing.
"She's only been there a month and I think she was having anxiety that week and didn't know how to cope so I think she thought that the only option was to run away.
"I just don't want anything to happen to her because she's at a very, very low weight right now and she's very, very vulnerable."
Ms Payagala said her daughter was "not streetwise" and "quite timid and shy" and that anyone who saw her should contact the police rather than approach her.
The family said Harini went missing in August for about four days.