Glow worms at Cotswold Water Park almost quadruple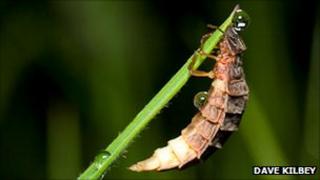 Glow worm numbers at a Gloucestershire site have almost quadrupled in the last year, according to a new survey.
An annual count at Cotswold Water Park recorded 63 individual glowing females - nearly four times more than the 17 counted during 2010's summer survey.
A Cotswold Water Park Trust spokesman said simple measures such as avoiding mowing grass verges during mating season have had a positive impact.
Glow worms are not 'worms' at all, but female larviform beetles.
'Huge positive impact'
Two areas were surveyed including the old railway line between Cricklade and South Cerney, and the canal tow path from South Cerney to Cerney Wick.
Ben Welbourn, biodiversity field officer for the Cotswold Water Park Trust, said: "It's fantastic to see that for some wildlife, such as the glow worm, the smallest of alterations to basic management can have a huge positive impact."
"Holding back on the mowing of grass verges during the mating season allows the females to shelter at ground level during the day before climbing the stems at night to display their wares."
Glow worm numbers can be negatively affected by the loss of habitat, artificial lights and changes in land management such as use of pesticides.
Females display their bioluminescent rear ends to attract the flying males. Once they have mated the female's light goes out, she lays her eggs and then dies.