Bishops Cleeve site given approval to operate until 2029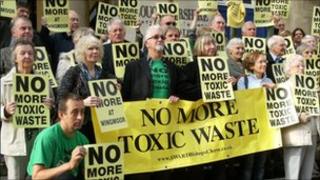 A controversial waste management site in Gloucestershire has been given permission to operate until 2029.
Grundon Waste Management Company's site at Wingmoor Farm, near Bishops Cleeve, was granted permission by Gloucestershire County Council.
During a five-hour planning meeting the committee chairman made a casting vote in favour of the application.
Campaigners said they would write to the secretary of state and ask for the decision to be "called in".
Barbara Farmer, from Sward (Safety in Waste and Rubbish Disposal), said: "It was a very disappointing meeting.
'Jobs assured'
"I have a letter in my hand and I'm going to ask the secretary of state to call in this decision because some very important planning issues we're simply not discussed."
Ms Farmer said the site should have been restored in 2009 to greenbelt land and as such the application should have been considered as new.
"The officer made it quite clear that this was a new application, so to put hazardous waste on a greenfield site with 15,000 residents within 3km is ridiculous and it needs to now be called in and discussed properly."
Richard Skiehens, Grundon's managing director, said: "Obviously we're delighted and I'm particularly delighted for our members of staff who are here today and who now have their jobs assured until the site's finished.
"I think Sward (Safety in Waste and Rubbish Disposal) have actually done a very good job and they've been very professional about it, but at the end of the day there is a need for this facility."
The planning application, which effectively grants Grundon another 20 years on the site, was submitted two years ago.
Local residents and Sward have campaigned against the plant saying it posed a danger to health and its method of disposing toxic chemicals was "primeval, crude and and dangerous".
Grundon said the Environment Agency, Health and Safety Executive and Health Protection Agency had monitored the site said it was safe.