Archaeologists' surprise at Woodchester Park square ruin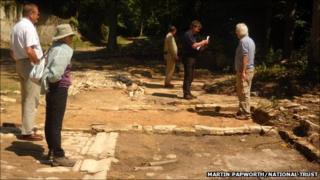 The remains of a building missing from maps have been found by archaeologists working at Woodchester Park in Gloucestershire.
A team from the National Trust, who have been working since May, have uncovered the ruin.
A circular building was marked on a 19th Century plan, but a square building has been excavated.
Archaeologist Jim Gunter said the discovery in the park near Stroud was "a bit odd".
"When we started all we knew about the out-buildings was a sketch on a map from 1838," he said.
The dig has uncovered 60 feet (18m) of walls, cobbled and flagstone floors, and high quality building materials.
The structures are thought to date back to the 1700s.
'Temple folly'
"There was a circular building shown on the 1838 map called a 'temple folly' but what we've got is a square building, which is a bit odd," said Mr Gunter.
It is thought some of the buildings on the site were still standing as late as the 1960s, and the team wants to hear from anyone who is able to shed any light on their use.
"If anyone knows anything about them and can remember them, get in touch," Mr Gunter said.
Woodchester became a park in 1610 and by 1730 a mansion house had been built there. Soon after, a series of ornamental lakes were built.
The house was remodelled in the 1820s and rebuilt in the Victorian period, but the money ran out in the 1870s and the new house was never completed.
The archaeological dig is part of an ongoing project by the National Trust to restore Woodchester's "lost" parkland and lakes.