Gloucestershire 'cowboy builders' have sentences upheld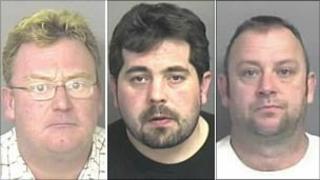 A gang of "cowboy builders" who scammed householders out of nearly £1m have failed to persuade judges that their sentences were too harsh.
The Gloucestershire gang conned more than 50 householders in different parts of the country.
In January, Mark Dixon, 43, Nicholas Harris, 45, and Matthew Higgins, 33, were found guilty at Bristol Crown Court of conspiracy to defraud.
They were jailed for seven, eight and six years respectively.
Dixon, of Ash Lane, Down Hatherley; Harris, of Ash Path, Upton St Leonards, and Higgins, of Nelson Street, all in Gloucester, were found guilty of running the scam between April 2005 and October 2007.
Bristol Crown Court heard they ran two linked firms called Construction Management Development Ltd and CMD Services Ltd.
'Violated homes'
They conned more than 50 people in Gloucestershire, Worcestershire, the West Midlands, Bristol, Wiltshire, Devon, Cornwall, Oxfordshire, Berkshire, Hampshire, Hertfordshire, Buckinghamshire, Surrey, and Kent.
Lord Justice Richards, Mr Justice Calvert Smith and Mr Justice Underhill heard the case at London's Criminal Appeal Court on Tuesday.
Mr Justice Calvert Smith said the builders had failed to complete a single building project.
Lawyers for the three asked for their jail terms to be cut, with Harris's barrister arguing his sentence should not have been so close to the maximum term of 10 years.
Higgins's lawyer told the court he had been a "gopher" who spent more time on YouTube than working.
Dismissing the appeals, Mr Justice Calvert-Smith said: "You violated the homes of householders by your conduct and these offences were committed on a countrywide basis.
"The crown court judge was right to aggravate the sentences because of the breach of trust."