29 Regiment Royal Logistic Corps opens base to public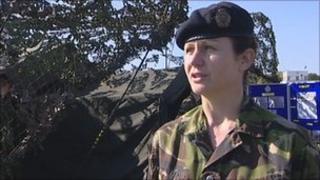 The 29 Regiment Royal Logistic Corps has opened its base in a bid to nurture its relationship with the community.
The regiment processes all Army troops before their deployment to Afghanistan and manages postal deliveries for the front line.
Commanding Officer Lt Col Anna Kimber said efforts were under way to "build closer links" with the community in the South Cerney area.
The Duke of Gloucester Barracks is open to members of the public until Friday.
Lt Col Kimber said: "We don't have any bus stops outside the camp and we have lots of wives who don't drive, so we're trying to campaign to try and get some bus stops.
"There is no footpath to South Cerney. We would like to be able to walk our kids into our local town," she added.