Stephen Morris reviews Sundae Club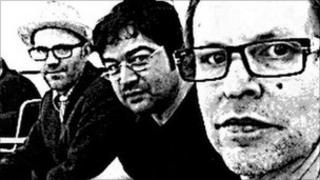 You can always rely on Sundae Club to come up with some splendidly weird and compellingly wonderful music.
From their debut, 'Technostalgia', right through to their EP, 'E-Pea' (see what they did there!), Hamstall Ridware and Dr. C D Mille have been championing vintage synthesisers, putting a modern twist on their sound.
The title of their first record is not just a name: it's a whole musical manifesto.
And so it's with great pleasure and delight we can savour the arrival of 'Eclectic Electric', a five track EP featuring - for the most part - a more ambient chilled out sound.
In the past, reviews of Sundae Club have seen this reviewer digging out his Lemon Jelly comparisons as the nearest point of reference.
And we're using "nearest" in the same way people on remote islands in the outer Hebrides talk about their nearest out of town electrical appliance store.
'Musical wonder'
Here though, the comparisons with Lemon Jelly can be put to one side (though still in view somewhere on the horizon).
With 'Eclectic Electric' - and especially with tracks like opener 'Picasso' - there's something of a Stereolab vibe to proceedings.
A gorgeous jazz organ swoops and wanders around the ears on this first track, over a complex selection of beats and grooves, all bleeps, tweets and general busy-ness.
And to add value to your well spent money, you'll find this track swimming through your lugholes for all of seven and a half minutes. Yes. That's right: seven and a half minutes.
This piece of musical wonder is followed up by the creepiness of 'Sundae Club's Spy Fly', written as the theme to a possibly imaginary sixties TV show.
As Sundae Club themselves suggest, it's the "perfect accompaniment for your next midnight bank job in your highly inconspicuous Jag mk2".
'Bizarre world'
One track on, 'Or a Mix' is a homage to the BBC Radiophonic Workshop (the people who created the original theme to Doctor Who).
It opens with the sound of a dripping tap before taking us into a bizarre world of repeated loops and musical refrains piled on top of one another.
Fourth track, 'What About Martian?' is there, as Hamstall Ridware explains: "to satisfy the traditional Sundae Club listener."
By which, he probably means people who loved the sheer wackiness of tracks like 'Brummagem Fly', 'Great Big Homberg Hats' and 'The Doddler' from previous releases.
It features the sample of an interview with a man who believes he can speak Venusian and Plutonian. But Martian? "Martian, I don't know much about."
It's delivered over a drums 'n' bass bed which remains remarkably chilled out, despite the very strange things happening over the top.
'Daft sounds'
With a full download of the EP comes hidden track, 'Interlude: Blokes', a haunting piano tune playing over the recording of a veteran of the Normandy landings.
It's poignant and beautiful and all the things it should be.
Once again, Sundae Club have proved to be masters of their own particular craft.
For those who thought Mssrs. Ridware and Mille were simply a couple of blokes who love producing daft sounds with old musical equipment, 'Eclectic Electric' will prove you wrong.
Of course, they are that. But as the most fleeting of listens will show, they are also so much more.