Dursley Training Unit price increase angers campaigners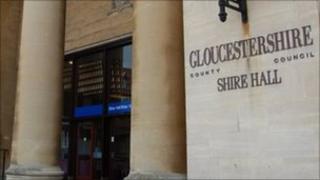 Campaigners have reacted angrily to a decision to more than double the charge for attending a centre for adults with learning disabilities.
Users say Gloucestershire County Council has increased daily rates at the Dursley Training Unit (DTU) from £16.32 to £42.09.
Chris Pockett, spokesman for the Friends of DTU, said the rise was "outrageous".
A council spokesman said no-one would be paying more for the service.
Mr Pockett said: "This latest tactic employed by Gloucestershire County Council in its attempts to close the DTU is simply outrageous.
"It is quite clear that this move is designed to reduce numbers attending the DTU, so that the council can justify its closure at a later date."
Tina Reid, head of care provision at the county council, said the rise was due to the introduction of a new system of funding and "nobody at the DTU is being asked to pay more for their services than they were previously".
'Unsettling for users'
"These changes apply to all non-residential care services, not just the Dursley Training Unit," she said.
"From November 2010, the council has stopped subsidising all non-residential care services for everyone and has instead introduced a system where an individual is given a personal budget to spend on the services they need.
"What has changed is that an individual has to make choices about the services that they buy with their budgets based on the full costs.
"While we understand that the implementation of the new system may be unsettling for users of the Dursley Training Unit and their families, we can reassure everybody that this is not part of a policy to move people out of the centre."
Mr Pockett, whose brother Gary Pockett is registered blind and uses the centre regularly, said the increase had "come completely out of the blue".
He said prices would increase and it was "a ludicrous argument" that the council was using.
The county council announced plans to close the centre in February as part of cost-cutting measures.
A review into the proposal is currently taking place with a final decision expected in the next few weeks.