Man arrested after Main Street in Willersey evacuated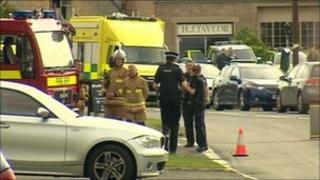 A 52-year-old man who had been threatening to harm himself, prompting the evacuation of a street in Gloucestershire, has been arrested.
Emergency services were called to the house in Main Street in Willersey, south east of Evesham, on Sunday.
Police negotiators spent the morning talking to him before he voluntarily handed himself to police at 13:15 BST.
"The man was arrested on suspicion of threats to kill and ABH against an 18-year-old local woman," police said.
"The victim received minor injuries," the force spokesman added.
No-one else was at the house at the time. Nearby residents were told to leave their homes as a precaution.