ARRC padre back in Gloucester after Afghanistan tour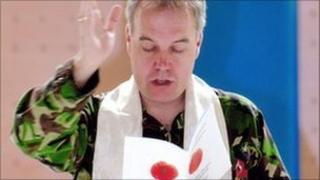 What do you wear when you go to church? Do you wear your 'Sunday best' or save those clothes for a special occasion?
One group of people who have little choice in what they wear to worship are the troops on the battlefront in Afghanistan.
It is battle fatigues for them.
Someone who knows all about worship in a war zone is Reverend Paul Wright; chaplain to the Allied Rapid Reaction Corps.
He has experienced war in Northern Ireland and Iraq and has recently returned from a six month tour in Afghanistan.
You would think that given the choice, men and women at war would not find time to go to church.
But the opposite is true.
'Extraordinary'
"A significant number of the troops come to worship and receive communion, something they wouldn't do at home," said Rev Wright.
And the increase in numbers attending worship is significant.
"I go into the chapel tent on a Sunday morning expecting two or three and there will be 30 or 40 - it is quite extraordinary."
But does living and working on the front line of war make you think about what is going on your own life, with the thought that it could be me next?
Rev Wright said that it does:
"They [the soldiers] saw people being killed and it does make them think about what is going on in their own life and the very personal, and perhaps selfish, thought that 'it could be me next'.
"It does make people switch on to those big questions of faith, fear, life and death."