Gloucestershire Police failings over 999 kidnap calls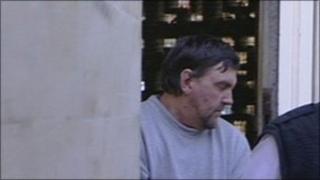 Gloucestershire Police failed to correctly prioritise two 999 calls about the kidnap of a girl, the police watchdog has said.
The Independent Police Complaints Commission (IPCC) investigated two emergency calls about Colin Riddall's assault of a 13-year-old girl.
The IPCC said "individual mistakes" caused a "misguided lack of urgency".
The police force said it had given further training to seven staff and had improved its call handling system.
Attacking a woman
Two inspectors, one sergeant and five control room staff were given performance advice after the IPCC investigation.
Colin Riddall, 44, from Quedgeley, Gloucester, abducted the teenager from School Lane, Quedgeley, last October.
In February he was given an indeterminate sentence and was told he must serve at least four years and nine months.
The IPCC report outlined how two calls were made by an ex-police officer who had seen a man attacking a woman in a car.
His second phone call also had details of the car registration, location and direction of travel.
The first call was graded as a "priority two response" which requires a response within four hours.
Although a computer check was made after his second 999 call, a report containing intelligence about the same car being seen in suspicious circumstances following a group of girls in June 2010 was not viewed.
A third phone call later that evening was made to police saying a 13-year-old girl had been kidnapped by a man in a white car.
It was later confirmed this was the same car being reported in the first two 999 calls.
IPCC commissioner Rebecca Marsh said: "We will never know whether a much earlier response to the first 999 call would have been able to partially prevent this assault.
"But it is clear that the errors in the initial grading of the first call meant that this incident did not receive the appropriate response and led to it being viewed with a misguided lack of urgency by those who subsequently dealt with it."
Because the first two calls did not refer to a girl being kidnapped, police staff did not know about her age and vulnerability, so this aspect of the complaint was not upheld.
Assistant Chief Constable Kevin Lambert said: "I hope the improvements made will help to ensure that in the unlikely event another incident of this sort takes place in the county, our handling of the initial calls would be better."