Prestbury war memorial 'not rebuilt by Armistice Day'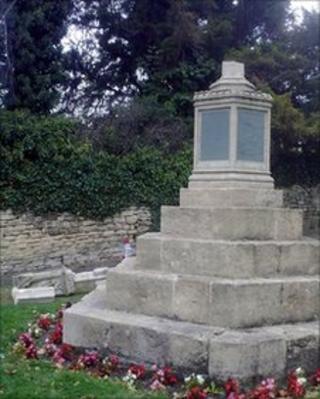 A war memorial in a Gloucestershire village that was knocked over and smashed will not be repaired in time for Armistice Day commemorations.
The stonemason working on repairs to the monument in Prestbury said it was so badly damaged, stone needed to be replaced rather than repaired.
It was vandalised on 7 October. A new one will not be made until next year.
CCTV released this week by police showed a driver of a silver car dumping part of the memorial in Cheltenham.
Stonemason Martyn Cuff, from Meister Masonry, said the remaining memorial was "very badly damaged".
"We've come to a decision with the parish council that we're going to renew the stone completely," he said.
"The pinnacle itself is in four pieces. The top piece, which is the feature stone, is very badly damaged - pretty much every corner has gone off it."
"We were aiming to get it in for Armistice Day [13 November] but stone that's quarried at this time of year needs to have time to be dried out and cured before it's exposed to any elements, so we're looking to get it done for Spring next year," said Mr Cuff.
He said his company had offered to carry out the repair work for free.
The firm has also appealed for people with photographs of the monument before it was damaged to get in touch so they can "get more detail".
They have also asked for anyone with more information about how it was originally built to come forward.
Police said the damage to the memorial happened late on 7 October.
The CCTV footage shows the driver throwing a piece of the memorial on to the side of the road in Lexington Square, Cheltenham, at about 23:25 BST that night.
Officers have urged anyone with information about the vandalism to come forward.