Stephen Morris: Tunnelmental Experimental Assembly review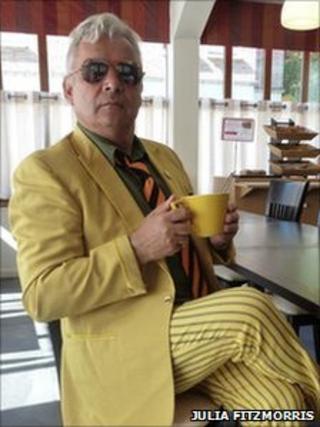 Former Cheltenham jockey turned LA based musician Nigel R Mitchell (frontman and brains behind the mouthful of a band name Tunnelmental Experimental Assembly) is on the verge of releasing a follow up to last year's '¿teatime?' album.
This one's called 'Say Unity'.
If you are in any doubt which side of the political fence Tunnelmental Experimental Assembly sit, you won't need to get through too much of the new record before you find out.
Opening song 'Advertising Junkie' offers a clue, as do the lyrics of 'All the Tears' ("this war cannot be justified/by all the tears I cried") or 'God City One' ("Could you take the money and run/if you knew it was made at the point of a gun" and "black gold burning in the sky").
In fact, by the time you're done, it's clear to see Tunnelmental Experimental Assembly sit so far to the left of the fence, they'd need the Hubble Telescope to see it.
'Say Unity' is an angry tirade against big business, corruption and amoral political attitudes.
It's the sort of bile you'd expect to hear delivered over a funk-rap bed, care of Rage Against the Machine.
'Riot of electronica'
Nowhere is this clearer than the sample of news reports from the release of the Birmingham Six.
Here, Mitchell preaches a message of right on values and a call for the unity of the album's title.
That's what lies at the heart of 'Defending the Dreamers', a single from the album released earlier this year and reviewed elsewhere on these pages.
Musically, the album is a supercharged riot of electronica. There are hints of the Chemical Brothers here.
Elsewhere though, there's a wistful look over the shoulder at the inspiration of Joy Division, especially in 'All the Tears' with its Ian Curtis-ish vocal.
Meanwhile 'Blind Horse Stumbles' reflects something of Joy Division's later incarnation, New Order.
As with '¿teatime?', this new album does a lot to prove there's life and brains in the old electronic dog yet.
'Less zesty'
While much pounding electronica is designed for people who want to forget their troubles, this particular record has quite the opposite effect.
But with the exception of references to a 20-year-old judicial failure (albeit it a huge one), the themes of 'Say Unity' remain rather vague, pointing to the concept of injustice rather than specific examples.
With all the issues to hit the news of late (phone hacking, MPs expenses, bankers bonuses and so on), there's plenty that you'd think a left-leaning, morally indignant musician might wish to sink his teeth into.
Mitchell's avoidance of these most low hanging of current affair fruits make the album rather less zesty than it could have been.
'Say Unity' remains a good album - all imaginative beats and relentless lyrics, but it could have been so much more.