South Cerney group pulls out of lake site purchase bid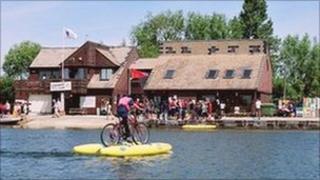 A community group in the Cotswolds has admitted defeat in its bid to buy the South Cerney Outdoor Education Centre.
The Lake 12 Partnership announced last month it wanted to raise £250,000 to purchase the 125-year lease at the lake and take over the 52-acre site.
But Gloucestershire County Council has published its plans to sell the lease for £875,000, which is said to be "well beyond" the means of the partnership.
The group has now volunteered to work with the council over any sale deal.
'Offers of support'
The Conservative-led council plans to save £45m over four years by selling off part of its property portfolio, including leasing the South Cerney centre and selling the Wilderness Centre in Mitcheldean, in the Forest of Dean.
Jeremy Ackroyd, chair of the Lake 12 Partnership, said the group was "simply unable" to find the funds necessary to buy and operate the centre.
"We had offers of support from a range of public and sporting figures to whom we are immensely grateful, but the council are clearly looking to make as much money as possible in selling off the centre and we didn't think it was right to ask the general public to put their hands in their pockets to buy something that as taxpayers they already owned," he added.
The authority has said that it would ensure that outdoor activities would continue to be provided to the public at the site.