Gloucester race equality charity 'can stay' at its base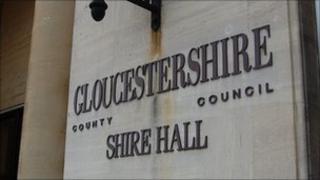 Gloucester's Race Equality Council has been been told it can stay in its current premises for the time being.
GlosREC was due to be evicted from Brunswick Road on Wednesday but a threat of legal action forced a rethink by Gloucestershire County Council.
The charity said the council, which owns the building, had wanted it to leave the premises. But the authority said no final decision had been made.
GlosREC has used the building rent-free since the 1960s.
Challenge the decision
The charity's Alexandra MacRae said: "GlosREC is most relieved to hear that the council has decided not to implement its plan to remove GlosREC from the premises which it has occupied for so many years.
"The immediate effect of a removal from our present office would have been enormously disruptive... and would have prejudiced the interests of clients whom GlosREC is helping with discrimination cases."
Ms MacRae said she was "grateful" that a member of the public who used the services had instructed a solicitor to challenge the decision to evict the charity.
A council spokesperson said: "No formal decisions have been reached yet about the future of 15 Brunswick Road and the council will look at all the issues before making its final recommendations."
GlosREC provides support for victims of racial discrimination.