National Hedgelaying Championships in Gloucestershire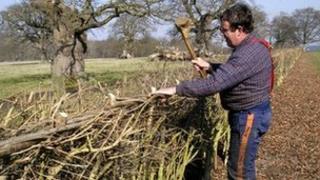 The 33rd National Hedgelaying Championships are taking place in Gloucestershire.
More than 100 competitors from all over the UK are taking part in the contest at Warth Farm, Arlingham.
Judges award points for traditional hedgelaying techniques such as cutting, pleaching, staking and binding.
National Hedgelaying Society (NHLS) chairman Robin Dale said: "It is a demonstration of skill."
Under the competition rules, competitors are allowed five hours to tackle a 10-yard (9m) section of hedge.
Prizes are awarded in each of the nine different styles of hedgelaying, including Midland, Welsh Border, Yorkshire and Derbyshire.
Mr Dale said: "People don't realise [farmers] are the biggest conservation people in the country.
"Once a hedge has been laid it's going to attract far more nesting birds."