Police 'sorry' for Gloucester rugby fans' drinking ban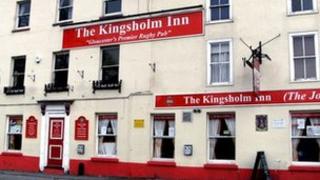 The police have apologised to rugby fans in Gloucester after saying they were not allowed to drink outside pubs in the city.
Supporters were asked to move inside at several pubs near the Kingsholm ground on Saturday 15 October before the Anglo-Welsh Cup match against Sale.
Supt Gary Thompson said: "On reflection that was the wrong thing to do."
Traditionally fans have been able to have a pre-match drink outside on the pavement before games.
Supt Thompson said: "There has been a long held tradition in the city that local supporters gather near the rugby ground on match days and have a drink outside some of the pubs.
'Good natured'
"This adds to the atmosphere around the ground and is always good natured.
"Recently the police spoke to several pubs and asked if supporters could move inside as a result of a complaint that they had received.
"I would now like to stress that in future we won't be stopping people having a drink like they always have done.
"We are concerned with keeping people safe from harm and as long as things continue like they always have done - with no issues about disorder - then I can see no reason why this proud tradition shouldn't continue.
"I'm sorry that we've caused this confusion and we look forward to continuing our excellent relationship with both supporters and local pubs."