Stephen Morris reviews Gloucester band Check Da Cone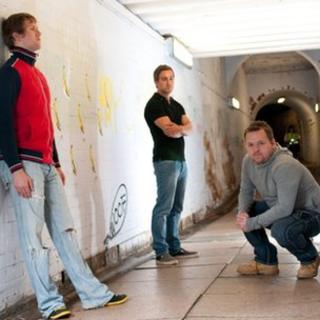 Some band names match the style of their music perfectly.
The name 'The James Lovett Trio' has a sense of serious intensity - which is only confirmed by the music that particular band produce.
Meanwhile Peppermint Hunting Lodge has an experimental, non-sequitur of a name suggesting a certain amount of chaos and left-field thinking. And so it is with their music.
But there are band names out there that play with your expectations. Names such as Check Da Cone.
Hooked together with their logo, a play on that of the Coca-Cola symbol, you might expect this particular band to be far from serious - a group of pranksters maybe, armed with nothing but a couple of guitars and a collective smirk.
Nothing could be further from the truth. Nothing at all.
Check Da Cone may, by their own admission, be just starting out. But they've already done much to impress in the space of two songs alone.
In fact they do themselves a huge disservice writing on their Facebook page: "We're here to play and play loud" as if that was the end of it.
Check Da Cone are here to do much more than that.
'Bright Lights and Big Nights' opens with a Motown-ish introduction similar to that found on Doves' 'Black and White Town'.
And there's a self assured funk sound hidden beneath vocalist Matt's gravelly, growling voice.
'Sense of sadness'
But Check Da Cone are far from the swaggering funkateers that their description suggests.
At the heart of this band's songs there is a sense of sadness: a mourning for opportunities lost, sorrow at how things work out not quite as planned.
"When and why must it all change?/When and why must it all stop?/Bright Light. Big Nights/We want them forever" runs the chorus of 'Bright Lights and Big Nights'.
But there's an overwhelming sensation that this is not to be: fate's fickle hand will intervene, as ever, turning an exciting life into a dull one with its predictable routine.
Elsewhere, the situation in 'Waiting' is nothing if not worse.
While 'Bright Lights and Big Nights' represents something of a fear of getting older (and, no doubt, the responsibility that comes with that), 'Waiting' cuts to something deeper.
Lines like the following speak volumes: "Put on a show/here we go now/just like every other day/a torturous shame/Suffocating fate/every move I make/is cursed and/Oh, there's no-one to blame."
Here, Check Da Cone prove themselves to be something above the traditional indie whiners, complaining about nice girls not liking them, or throwing an adolescent tantrum over some imagined slight.
And to prove how serious they are, there's barely a reference to weather or journeys down long roads (two of this particular reviewers' bugbears - you may have noticed).
Instead, what we have is a song which goes quite some way towards summarising feelings of isolation and despair.
Behind all the indie/rock pomp of Check Da Cone, taking in influences from U2 to The Libertines, you'll find three rather delicate souls with something important to say.
Check Da Cone have a full album out soon. And that's got to be worth looking forward to. In a miserable kind of way, of course.