Cobbled streets in Somerset could be saved from tarmac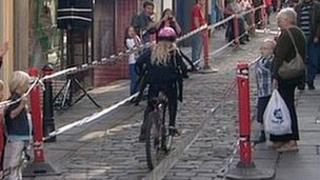 Cobbled streets in Somerset could be saved - after the council reversed a plan to use more tarmac.
The county council had said it would save £90,000 a year by repairing damaged cobbles with the cheaper tar-based surface.
But after an outcry from areas like Frome, Wells and Shepton Mallet the council agreed to review the policy.
Now officials say they will use cobbles in repairs as long as town and parish councils share the cost.
Harvey Siggs, cabinet member for highways, said the council had managed to find enough money from other areas.
'Find the top up'
However, town and parish councils in historic conservation areas will still be asked to "top up" the funds for the repairs.
Mr Siggs said: "We've raised part of the money and we've been putting together proposals that we can take to parish councils and conservation areas to say can you find the top up?
"But it doesn't happen overnight and it doesn't mean we can suddenly stop [tarmac repair].
"These are health and safety defects, usually, and so something has to be done in the short term - so tarmac has gone in."