Police 'graffiti' arrest numbers on Gloucester streets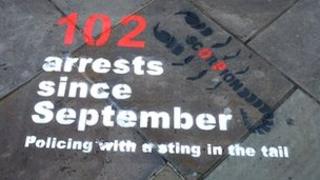 Gloucestershire Police have stencilled the number of arrests the force has made on streets around Gloucester.
The street stencils, applied at 30 city sites, are to highlight the force's "harder approach" to lawbreakers as part of Operation Scorpion.
Since its launch in September, the countywide operation "aimed at tackling any low-level issues" has led to 102 arrests in Gloucestershire.
Supt Rob Priddy said the stencils were a way to "draw attention to our work".
He said: "We want to raise awareness of what we are doing to make the city safer and a more pleasant place to live, visit and work.
"And the street stencils are a different, eye-catching way of drawing attention to our work."
The "temporary reminders of the operation" have been applied to the city's pavements by professionals using either chalk spray or pressure washing.
Paul James, leader of Gloucester City Council, said it was "an interesting and creative approach to dealing with an important issue".
"We want and encourage people to come to Gloucester and enjoy themselves, but to do that in a responsible manner that doesn't cause problems or offence to others."