Gloucester Railway Triangle plans 'not lizard friendly'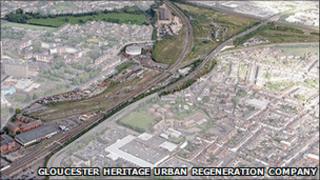 Concerns have been raised by Gloucestershire Wildlife Trust over a plan to redevelop a brown field site in Gloucester.
Campaigners say plans for the 15-acre site, known as the Railway Triangle, "do not respect the needs of wildlife", especially a colony of common lizards.
Colin Studholme from the trust said the plans could be "more imaginative".
A spokesman for Gloucester City Council said all planning applications were "rigorously assessed".
Plans for the £34m scheme for a new business park, restaurant and pub, takeaways and a supermarket were unveiled earlier this year.
The area of land has been derelict for more than 20 years.
The proposals are to due be discussed by Gloucester City Council planners in December.
'Ideal habitat'
"We know that lizards are there, it's ideal habitat for them," said Mr Studholme. "The new plans don't really take their presence into account."
Common lizards are protected under the Wildlife and Countryside act, meaning a licence to move them would have to be sought and if the plans are approved.
"This is probably the only colony of lizards in the city of Gloucester so it seems a shame they should be shipped out somewhere else," said Mr Studholme.
"We don't think there has been adequate surveys done of this site."
A council spokesperson said: "All planning applications are rigorously assessed on a whole range of planning policies, these include transport, retail and shopping, urban design, as well as ecological issues.
"The job of the planning committee is to make an overall assessment based on all these. The application is due to go to committee in early December and the report is still in the process of being prepared."