Children in Need funds dance lessons for disabled children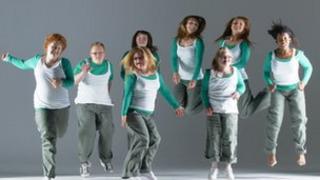 A dance company helping children with profound disabilities is set to expand its work using Children in Need funds.
Gloucestershire Dance has received £95,000 to provide dance sessions for disabled youngsters.
Project manager, Louise Portlock, said: "The sessions increase their physical stamina and fitness and helps them maintain a more independent lifestyle."
The funds will be used over the next three years to extend their work beyond the county to Bristol, Bath and Wales.
'Communication skills'
The extra funding has also enabled the organisation to create two full-time posts which previously operated on a part-time basis.
Gloucestershire Dance has been funded by Children in Need in the past, and recently finished a similar programme during 2009-10, where it helped 1,300 children.
The aim now is to double that figure.
"For me the changes I see in the children taking part are improvements in their communication and interaction skills, and being able to work more interactively with their peers," said Ms Portlock.
A total of 16 projects in Gloucestershire received £384,000 in Children in Need funding over the past year.
BBC Local Radio is hosting 22 special screenings of Grease in aid of Children in Need, at Cineworld cinemas across England on Tuesday 15th November. Tickets are £6, with £5 going to Children in Need. More details here.