Plans to revamp Gloucester Fleece Hotel site unveiled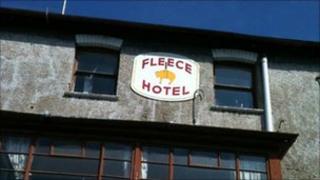 Detailed plans for a £350,000 revamp of the Fleece Hotel site in Gloucester have been unveiled.
Proposals for the mostly derelict and unused area include plans for new offices, flats, restaurants, cafes, shops and a hotel.
Parts of the building in Westgate Street are Grade I-listed, 900 years old and said to be of "international significance".
A four-week period of public consultation will end on 14 December.
The building was passed into the ownership of Gloucester City Council in July after the South West Regional Development Agency was abolished.
A council spokesman said the scheme would "ensure the site's repair, restoration and active reuse to create a vibrant urban space in the heart of the city centre".
The project also includes plans to open up pedestrian access through the 0.28 hectare (0.7 acre) site.