'One of the fastest growing faith communities in Gloucestershire'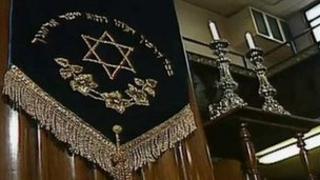 Gloucestershire Liberal Jewish Community (GLJC) was formed just three years ago but now it has a congregation of over 70 who gather together from all over the county.
They have become one of the fastest growing faith communities in Gloucestershire.
Their new Rabbi - Anna Gerrard - is the first Rabbi in Gloucestershire for 60 years and the first ever female Rabbi.
An evening of celebration was called for.
Civic dignitaries from Cheltenham were invited including members of the Cheltenham inter faith group, the mayor, councillor Betty Driver, and local MP Martin Horwood.
As in most faith communities, once the religious part of the evening is over it's time for the tea, the wine, the sandwiches and cake.
'Amazing'
Trust me I'm something of an expert in these matters.
But there was time for a chat with Anna - she was very excited.
"It's amazing, it's amazing to have been part of this community as a student, to have seen this community grow to have a civic identity and to now have its own ordained Rabbi," she said.
For one guest this was an especially proud evening.
Rabbi Aaron Goldstein was at one time a travelling itinerant Rabbi, one of the founders of the Gloucestershire Liberal Jewish Community.
How surprised was he that the community has grown so quickly?
'Special group of people'
"I'm not surprised at all," said Aaron. "Because the lay leaders here are very special, the community has great wisdom and courage," he continued.
"They are a very special group of people who will welcome anyone who seeks to come into their home."
But what of the future? Let's leave the final word with Rabbi Anna Gerrard.
"It is a privilege to be involved with such a diverse and dynamic community," she said.
"One that is rapidly becoming the cultural and spiritual hub of Jewish life in the county."
Amen to that.