Kate Prout murder: Police woodland search continues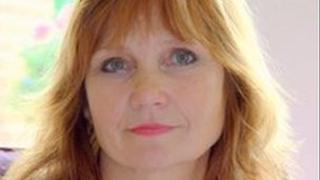 Police continued to search woodland in Gloucestershire for a second day looking for the remains of murder victim Kate Prout.
On Friday her husband Adrian took police to Redhill Farm, Redmarley, to show them where he had buried her body.
Det Supt Simon Atkinson said the search was "delicate and painstaking" and could take some time.
Officers have ended their search for the day and are expected to resume on Wednesday.
Prout was jailed for life in February 2010 for her murder following a trial. Police said he had now admitted the killing.
'Delicate and painstaking'
Mr Atkinson, who is in charge of the search, said: "Adrian Prout indicated a plot of land measuring approximately 250 square metres where he had buried Mrs Prout.
"We have subjected part of that area to ground-penetrating radar testing and dug some of the ground with the assistance of a forensic archaeologist, however nothing has yet been found.
"We are today [Tuesday] widening the search area, working methodically outwards. This is a delicate and painstaking process.
"We are seeking advice from body deposition experts and the National Policing Improvement Agency in order to further the process.
"This search could, however, take some time and our thoughts are always with Kate Prout's family, who we are keeping constantly updated."
Detectives had to call off the search on Monday earlier than expected because of poor light.
Many footpaths in the area remain closed while the investigation continues, and a wooded area on the 276-acre farm remained under police guard overnight.
The couple, who married in 2000, were living in Redhill Farm. The property was valued at £1.2m.
Prout offered his wife a settlement of £600,000, but after discussion with accountants she decided to demand £800,000, his trial in February 2010 was told.
In evidence, Prout denied murdering his wife, but conceded there was a risk he would have to sell his "dream" farm to meet her £800,000 divorce demand.
He said the last time he saw her was after they had a "low-key" row over her cooking him too big a lunch.