Kate Prout murder: Search dogs brought in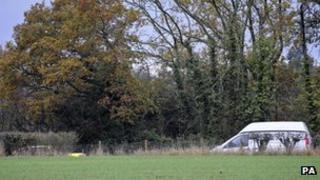 Search dogs have been brought in to help find the remains of Kate Prout, who was murdered by her husband.
Specialist cadaver dogs, trained to locate decomposed bodies, have been drafted in to help the search of woodland in Gloucestershire.
On Friday, Adrian Prout took police to Redhill Farm, Redmarley, to show them where he had buried his wife's body.
He was jailed for life for her murder in February 2010 after a trial. Police said he had now admitted killing her.
Gloucestershire Police, which widened its search on Tuesday, said "nothing of significance" had been found so far.
Police said Prout had told detectives he had buried his wife in a plot of land measuring about 250 sq metres.
Det Supt Simon Atkinson, who is overseeing the search, said it was "a delicate and painstaking process".
Many footpaths in the area remain closed while the investigation continues, and a wooded area on the 276-acre farm remained under police guard overnight.