Kate Prout family hopes 'to lay her to rest'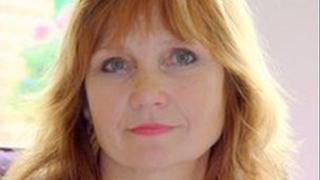 The family of Kate Prout, who was murdered by her husband in 2007, say they hope to put her to rest "at last".
Adrian Prout took police to Redhill Farm at Redmarley, in Gloucestershire, last Friday to show them where he had buried his wife's body.
After a four-day search, detectives discovered human remains on Thursday. Post-mortem tests are under way.
Richard Wakefield, Mrs Prout's brother said: "It's been like a prison sentence for us."
A year ago, Mr Wakefield made a plea to his sister's killer to reveal the location of her body.
'Prison sentence'
Mr Wakefield said that if the remains were confirmed as his sister, it would be a relief to have her back "so we can put Kate to rest at last".
"Hopefully when we get Kate buried we can all move on in our lives."
Prout was jailed for life for his wife's murder in February 2010 despite his denials.
Four years after Mrs Prout went missing, Prout is said to have told his fiancee Debbie Garlick that he strangled his wife following a row and buried her body.
He later admitted to police that he had killed his wife.
Mr Wakefield's wife Linda said the search had been "just as traumatic as going through the trial".
She thanked Ms Garlick for coming forward and passing information on to the police.
A Gloucestershire Police spokesman said officers were hopeful of a formal identification of the remains later.