Mini digger crashes into railway bridge in Cheltenham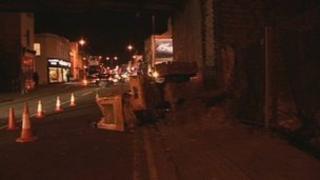 A mini digger has crashed into a railway bridge in Cheltenham, partially closing one of the town's main roads.
The accident happened during the afternoon rush hour on Monday at the junction of Tewkesbury Road and Gloucester Road.
It has resulted in severe traffic disruption in the area and the crash has also damaged the bridge.
Police have said they do not know when the road will fully re-open.