Gloucester railway triangle redevelopment plan approved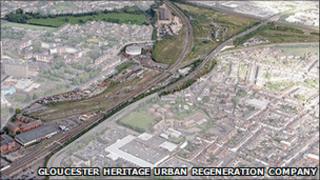 Plans for a £34m redevelopment of one of Gloucester's most notorious "eyesores" have been approved.
A new business park, restaurant and pub, takeaways and a supermarket will now be built on the derelict area of land known as the railway triangle.
Gloucester City Council gave the green light to the proposals at a meeting on Thursday.
The area of land has been derelict for more than 20 years.
Over the years, various schemes have been considered for redeveloping the site, such as plans for a snow dome, an ice rink and a new stadium for Gloucester Rugby, but all have failed.
Paul James, leader of Gloucester City Council, said the approval was "good news" and developers were eager to start early in the new year.
"It's a site that has been derelict for 20 years and here we have a scheme that doesn't rely on any public subsidy and where they are keen to get on with it very quickly," he said.
A separate decision over plans for a new Tesco supermarket at the old cattle market site in St Oswald's Road was deferred to next Tuesday.