Balcarras School has TB tests after confirmed case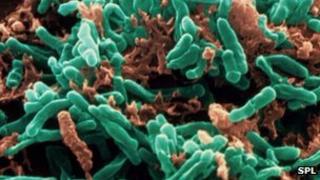 Tuberculosis screening is under way at a Gloucestershire school after a sixth form pupil contracted the disease.
Health experts have set up a clinic at Balcarras School in Cheltenham to see if the single case has spread.
A student was diagnosed with the disease last Wednesday. The screening will be held on Monday and Tuesday.
The infection can be spread by continued contact with a carrier and pregnant women and babies are particularly susceptible.
"It's not the entire school that's being screened," said Dr Chitra Arumugan, public health consultant with the Health Protection Authority (HPA).
"It's just a very close group of people and then we'll know whether they have actually been exposed."
'Resurgence of TB'
The tests have been offered to those who have been in close contact with the student.
Students and staff who had significantly less contact with the affected pupil are being given advice about the signs and symptoms of TB.
"There's nothing to feel anxious about. The pupils are absolutely fine about it," said Neil Baxter, head of sixth form.
"The advice we've been given is that it's all very low risk."
TB is a serious but curable infectious disease which normally affects the lungs but can also affect other parts of the body.
It is usually spread through the air when a patient coughs or sneezes.
Dr Arumugan added: "There has certainly been a resurgence of TB.
"We see about 9,000 cases a year. This is compared to, for example [in] 2000 when we saw about 6,000 cases of TB in the UK."