Kate Prout murder: Inquest opened and adjourned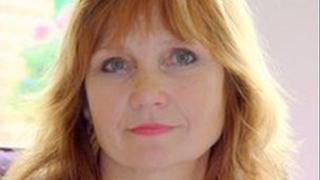 An inquest into the death of Kate Prout, who was murdered by her husband in 2007, has been opened and adjourned.
The body of Mrs Prout, 55, was recovered from the Gloucestershire farm she shared with Adrian Prout.
Prout, 49, was jailed for life in February last year after being convicted of her murder.
Gloucestershire Coroner's Court heard a post-mortem examination failed to establish how Mrs Prout died.
Last month, her husband confessed to the killing and took detectives to the woodland in Redmarley where he had buried her body.
Criminal conviction
Further tests are due to be carried out by pathologists on Mrs Prout's body, including on part of her larynx.
"The cause of death is unascertained, but initial results do not negate Mr Prout's account of her death [to police]," said coroner's officer, Terry Onions.
Mr Dooley said he would release Mrs Prout's body in 28 days for burial or cremation, allowing time for any parties involved in the case to request a second post-mortem examination.
If there are no requests lodged, Mrs Prout's body will be released earlier.
Mr Dooley said a full inquest may not be necessary because of the murder conviction.
Ex-teacher Mrs Prout disappeared on 5 November 2007, the day after she asked her husband for an £800,000 divorce settlement.
'Confessed to fiancee'
Her husband, who owned a pipe-laying business and commercial pheasant shoot, had said he would need to sell £1.2m Redhill Farm to pay the settlement.
Instead, he offered her £600,000 plus maintenance.
Prout then reported his wife missing on 10 November that year.
Four years later, he is said to have told his fiancee, Debbie Garlick, who he had a child with after his wife's disappearance, that he strangled Mrs Prout following a row and buried her body.
Ms Garlick, who had been behind a campaign to clear his name, is believed to have subsequently spoken to Gloucestershire Police about his confession.