Proposals for new Tesco store in Gloucester approved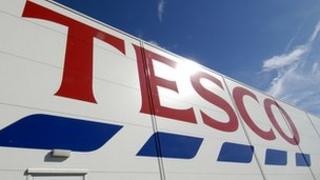 Plans by Tesco to build a new supermarket about three times the size of the existing store on St Oswalds Road in Gloucester have been approved.
Gloucester city councillors deferred the decision at a meeting on 1 December after asking for more information.
On Tuesday night, they voted in favour of the new development by six votes to two, with one abstention.
The proposals, which include a filling station, will now go before the government for final approval.
The plans would see the existing 5,683 sq m store and petrol station demolished, and a park-and-ride that closed earlier this year and 790 parking spaces removed.
A new 15,310 sq m store would then be built, along with 985 parking spaces and a new filling station.
Some opponents of the plans say the store could affect traders in the city centre and expressed concerns about increased traffic.
Supporters of the proposals said the new store would help in the regeneration of the area and create jobs.