Longlevens and Elmbridge flood-prevention work finished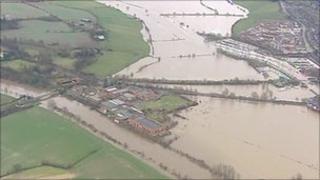 A new £1.5m flood defence scheme, protecting 350 homes in Gloucester, has been opened.
The Horsbere Brook Flood Alleviation Scheme is designed to reduce the risk of flooding in the Longlevens and Elmbridge area to less than 1% per year.
The flood embankment and storage can hold more than 17,000 cubic metres (3.7 million gallons) of water.
More than 50 acres of farmland were purchased for the project.
In normal conditions the reservoir will be empty, filling when river flows increase and there is a risk of flooding.
This will significantly lower the water levels in Horsbere Brook, which burst its banks four years ago.
Flood banks have been created to the west between the water storage area and the main road.
Homeowner Vicky Minty, whose home in Cypress Gardens was flooded in 2007, said: "It's lovely to see what's been done. It's reassuring, you can now sleep well at night.
"Houses [in the area] are selling again. People are moving in and people are renting houses again."
Councillor Mark Hawthorne, leader of Conservative-controlled Gloucestershire County Council, said the authority had contributed more than £500,000 to the Environment Agency flood alleviation schemes.
"The Horsbere scheme is the largest of six major flood risk schemes.
"Longlevens was particularly badly hit in 2007, and as a council we are delighted that this scheme will reduce the flood risk to the Longlevens area," he added.
The flood defences were officially opened earlier by flooding minister Richard Benyon.