Keith Soons iPhone murder accused denies attack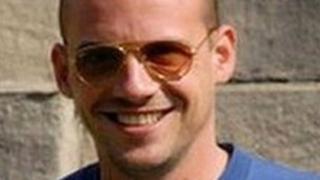 A street robber accused of murdering a man by stabbing him with a screwdriver after taking his iPhone has told a court he did not carry out the attack.
Keith Soons, 36, from Gloucester, died from a head wound after being attacked in Cheltenham in February.
Michael Sexton, 28, told Bristol Crown Court it was his co-accused, Richard Smith, 27, who had killed Mr Soons.
Mr Sexton admits robbery but denies murder, while Mr Smith denies robbery and murder.
Both men are from Cheltenham.
'String of lies'
Jurors have been told that Mr Soons, who worked for clothing firm Superdry, was robbed of his wallet, a gold ring and his mobile phone, and was then attacked in an alleyway when he tried to get his belongings back.
Bernard Richmond QC, representing Mr Smith, accused Mr Sexton of telling a string of lies to shift the blame for Mr Soons's death on to his co-defendant.
"The person who had taken the phone was you and the person who had gone back was you," Mr Richmond said.
"The person who had taken the wallet was you and the person whose idea it was to rob him was you.
"It was you, you, you all along."
On Monday, Mr Sexton, of Moors Avenue, told the jury that he and Mr Smith, of Fairview Road, had robbed Mr Soons of his wallet and ring after finding him outside a house on Pittville Lawn.
He said that Mr Smith had then gone back to Mr Soons alone and taken his iPhone. Mr Soons had then chased after them and caught up with them in Wellington Lane.
There, according to Mr Sexton, Mr Smith, who is known as Ricky, had told him to punch Mr Soons, which he did, and when Mr Soons got up, Mr Smith hit him, causing the fatal head injury.
'Lost control'
But Mr Richmond suggested to Mr Sexton that Mr Smith had only thrown one punch and it was he who had actually stabbed Mr Soons.
"After Mr Soons had been knocked down by Ricky he sat up and you launched into him and you lost your temper again," he told the court.
"You lost control again and you stabbed again."
Mr Sexton replied: "No."
Mr Richmond said there was a series of inconsistencies between what Mr Sexton said in a number of police interviews and what he had told jurors on Monday.
"So what you do, when in doubt, blame Ricky," the barrister said.
Again Mr Sexton replied: "No."
"The only person who had a screwdriver was you," Mr Richmond said.
Mr Soons lived in Gloucester with partner Sam Ramsey, 23, the mother of his daughter Tilly, who was eight months old when he died.
The trial continues.