Gloucestershire M5 crash: Royal Mail lorry driver dies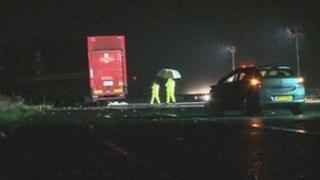 A lorry driver from Bristol has died in a five-vehicle crash on the M5 motorway in Gloucestershire, which left the road closed throughout the night.
The 55-year-old, who was driving a Royal Mail lorry, died at the scene. His family have been told.
Police believe snow, hail and icy conditions were "major factors" in the crash, which happened at 21:30 GMT.
The M5 was shut northbound between junctions 10 and 11 overnight but reopened at 07:40.
Two other lorries and two cars were involved in the accident.
'Truly horrific'
Sgt Martyn Murawa said: "Some of the officers that turned up described it as an ice rink.
"We believe it was certainly a major factor at this moment with regards to the collision itself."
Thomas Lydon witnessed the aftermath of the accident.
He said: "Just north of junction 10 we could see a whole lot of blue lights and emergency services and it wasn't until we were level with the Royal Mail lorry, it was clear it was a really bad smash up.
"The cab was about 90 degrees to the motorway and there were a lot of firefighters working on it"
He said the road surfaces were "awful" on Tuesday evening.
"When we had driven on the same stretch of the motorway an hour before, the weather was very changeable, there was terrible rain and we hit hail."
Chris Gwilliam, who also witnessed the aftermath of the accident, said it looked like a "truly horrific" crash.
Gloucestershire Police said the Royal Mail driver had been trapped in his vehicle.
The M5 southbound carriageway was also closed temporarily between junctions 9 and 10 at about the same time, after a car hit the central reservation.
In a separate accident, the A40 was closed in both directions between Cheltenham and Burford after two vehicles collided. A male trapped inside one of the vehicles suffered serious injuries.
A police spokesman said: "Police received a report of erratic driving at 9.25pm and moments later a blue Vauxhall Astra collided with a white Ford Transit van.
"The fire service and ambulance service attended and cut a man out of one of the vehicles.
"The drivers of both vehicles have injuries that are not believed to be life-threatening at this time."