Keith Soons iPhone murder accused walks out of court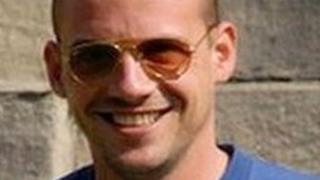 A self-confessed career criminal accused of murdering a man after taking his iPhone has walked out of court after clashing with a barrister.
Ricky Smith, 27, denies robbery and the murder of Gloucester man Keith Soons, 36. Co-defendant Michael Sexton, 28, denies murder but admits robbery.
Mr Smith left the witness box at Bristol Crown Court during questioning by Mr Sexton's barrister.
He went back to the dock before heading downstairs accompanied by guards.
The trial judge, Mr Justice Silber, then adjourned proceedings.
Mr Soons was stabbed in the head with a screwdriver in the accused men's home town of Cheltenham in February.
False alibi claim
Jurors have heard that both Mr Smith, of Fairview Road, and Mr Sexton, of Moors Avenue, admit being at the scene of the attack in Wellington Lane, but blame each other for delivering the fatal blow.
Mr Smith, who described himself as a "professional" who stole to order, told the court on Wednesday that he had convictions for assaulting former girlfriends.
But he claimed the only time he carried a screwdriver was when he was out stealing cars.
During his second day in the witness box on Thursday, Mr Smith was asked by Mr Sexton's barrister if he had made his girlfriend Carolanne Williams provide police with a false alibi.
It was at this point the defendant stormed from the dock, accusing the barrister of bullying him.
Following a short break, Mr Smith's barrister Bernard Richmond QC told jurors: "You will see that Mr Smith has returned to court.
"He does not intend to go back into the witness box."
The trial was adjourned until Friday, when closing speeches will begin.