Stephen Morris : Cheltenham-based Loftbeat review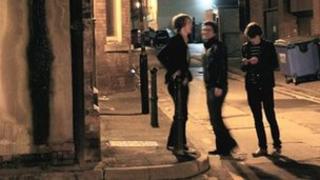 Something of a cult-like status is afforded to musicians who die tragically early.
John Lennon will forever be held in higher esteem than Paul McCartney, Sid Vicious's antics will be revered by many a punk in a way his butter salesman band mate won't.
And Joy Division holds a certain mesmerising spell over fans in a way New Order (made from that band's surviving members) doesn't quite achieve.
It is, of course, entirely wrong to do this.
A musician's quality rests on more than whether or not they are alive or dead, on whether they took an overdose, died in a terrible road accident or are living quite happily in Chelsea with a beautiful wife and three kids thank-you-very-much.
Nevertheless, there is something spellbinding about the intensity of Joy Division's music.
And it is that band's concentration of passion and emotion that Cheltenham's Loftbeat has gone some way towards capturing in their 'Death of Youth/Hysterical' single.
'Imagination'
'Hysterical' is a fantastic slice of post-punk, a gloomy series of observations about the dark closing in around you: "let the silence take hold/don't let it fade away" runs the chorus of this bleak song.
The tune leans heavily on the influence of The Stranglers' 'No More Heroes' before a more brazen borrowing of the sha-la la las of Peter Hook's side project Monaco's 'What Do You Want From Me'.
Nevertheless, the song has enough imagination on its own for such concerns to melt into the background.
'Death of Youth' is an equally gloomy song.
Here, the style moves away slightly from the Joy Division influences (at least in the music department), favouring a more contemporary post-Libertines indie sound.
But the lyrics continue to explore the darker, staler side of life - as the title might suggest: "all our heroes have passed away" and "we thought those days would never end/well they f****** did".
And this mood continues in the psychedelic shoegazery of 'Some Kind of Karma', charting an attempt to fight against apparent fate, destiny and inevitability.
As the opening lyric suggests: "spin the world the other way round".
Loftbeat's music has an intense, claustrophobic feel to it.
While the songs are somewhat derivative, they remain challenging and grab the attention.
Rather than repeating angst ridden oft-used phrases, whose meaning has been sucked out through overuse, Loftbeat's songs remain relevant and genuine.
And this can only be a GOOD THING.