Lydney level crossing fault lets 59mph train through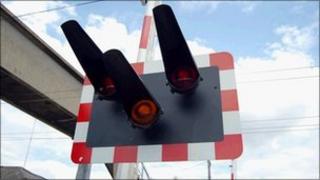 A train travelling at nearly 60mph passed through a level crossing in Gloucestershire with the barriers up.
The report by the Rail Accident Investigation Branch said the barriers at the crossing in Lydney had failed and were under manual control.
On 23 March the operator had lowered the barriers to stop traffic to let a train through and later raised it.
Minutes later a train passed through but the signal box operator was not alerted by a warning buzzer.
The inquiry was told the automatic barriers on the crossing had failed earlier in the day and were being operated manually.
Warning signals
At about 14:20 GMT the operator lowered the barriers to stop traffic as one train passed.
But they had been raised when the Cardiff to Nottingham service came through a few minutes later at 59mph (94km/h).
The report concluded that an audible buzzer warning of an approaching train failed to sound to alert the operator to lower the barrier.
However, it noted, even with the barriers up the traffic warning signals for vehicles either side of the crossing were flashing red.
There were no injuries or damage in the incident.
The Rail Accident Investigation Branch is independent and investigates accidents and incidents on the UK's railways to improve safety, not to establish blame.