Warning over festive poaching rise in Forest of Dean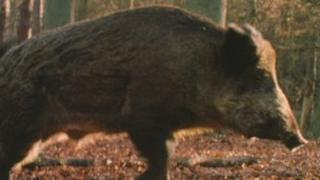 The Forestry Commission has appealed for people to keep a lookout for winter poachers shooting and selling wild boar and deer in the Forest of Dean.
It follows concerns raised by the Friends of the Boar group that the festive season and struggling economy are making the problem worse.
The group has called for tougher penalties against poachers.
The commission's Ian Harvey said it was suspected poaching was becoming "more prevalent" because of the recession.
'Easy money'
Rob Ward from Friends of the Boar said there needed to be "severe penalties" to deter people caught buying meat or shooting animals.
He said wild boar meat could fetch as much as £300 on the black market.
"This time of year you're going to see more people looking to make a quick buck and if there's potential to try and shoot them, and if they've got an outlet to sell it on, it's easy money."
Mr Harvey said: "The suspicion is that poaching is becoming more prevalent because of the recession, either people poaching for their own use or selling illegally to pubs and hotels and stuff.
"Certainly police get informed of hotels being offered bargain-priced venison from dubious sources, and they do the right thing by telling the police so they can investigate and take action - but the police are powerless unless they get any intelligence."