Gloucestershire M5 crash: Royal Mail lorry driver named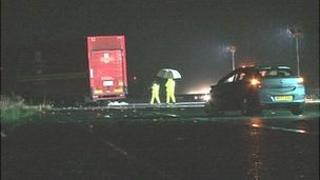 A lorry driver who died in a five-vehicle crash on the M5 in Gloucestershire has been identified.
Peter David Marlow from Clutton, near Bath, was driving a Royal Mail lorry on the motorway when the accident happened on 13 December
Mr Marlow, 55, died at the accident site - between junctions 10 (Cheltenham N) and 11 (Cheltenham S).
Police believe snow, hail and icy conditions were "major factors" in the crash, which happened at 21:30 GMT.
Two other lorries and two cars were involved in the accident.
Gloucestershire Police said Mr Marlow had been trapped in his vehicle.