Cheltenham Lido expecting crowds for Christmas Day swim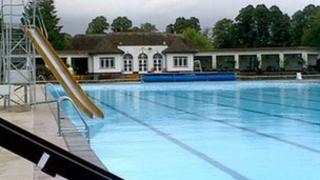 Staff at an open air pool in Cheltenham have said they are expecting a bumper turn-out of swimmers for the annual Christmas Day dip.
Last year's event at Sandford Parks Lido was cancelled because the water froze and it was feared breaking it would cause structural damage.
The tradition dates back at least 40 years. Normally about 90 people attend.
Lido manager Julie Sargent, said she was expecting a "good number" of swimmers.
"Unfortunately we had to cancel last year's swim, and we're hopeful that we'll get a good turn out from people who couldn't make it last year," she said.
The water temperature is expected to be a chilly 4C (39F) when people get in the pool at 11:00 GMT.
"Most people get in and try to swim a width. Some get out, but others do turn around and complete two widths.
"And I'm sure there will be a hardy couple of people who will attempt a length, but it is a very tough challenge," said Ms Sargent.
All swimmers taking part have to sign a disclaimer to show they understand the risks to health involved in such swims.