Paralysed Stroud man to spend Christmas at home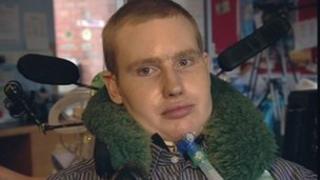 A 23-year-old man from Gloucestershire paralysed after contracting bacterial meningitis will spend Christmas at home for the first time in four years.
Jonathan Brough, from Stroud, contracted bacterial meningitis on a trip to Canada in 2007.
He now needs 24 hour care, is confined to a specially-built wheelchair and is unable to breathe without a ventilator.
A grant from the Meningitis Trust has enabled work to be carried out to adjust his home to his needs.
Mr Brough said it would be "amazing" to spend Christmas at home for the first time since becoming ill.
"Christmas is massive. Just spending it with my family will be great because we always have a good time," he said.
Mr Brough has been living in the Leonard Cheshire care home in Cheltenham and had been unable previously to spend Christmas with his family because his home was unsuitable.
Chief Executive of the Meningitis Trust Sue Davie said: "What's so important for us is people like Jonathan and his family who need support after meningitis because they are left with devastating after-effects, get that from the Meningitis Trust for as long as they need it."