'Emaciated' dog found in Forest of Dean makes good recovery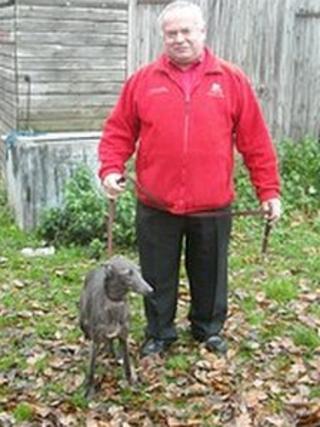 Rescuers who found a badly-injured whippet dog in the Forest of Dean have said they are surprised she survived.
The three-year-old was found on Redmarley Road with the end of her tail and the tips of her ears missing and she was covered in pressure sores.
Willow was treated by a vet and eventually taken to a nearby whippet rescue centre.
Spokeswoman Rachel Knapton said she had never seen a dog looking so bad when it arrived.
'Healthy and beautiful'
"When she was found [in October] it's a wonder she wasn't dead and now she is bouncing and bounding and is an absolutely stunning dog," Ms Knapton said.
"She is terrified of people and would need to be rehomed with a single person or a very quiet home."
Forest of Dean street warden Rob Carpenter had collected Willow from the Mill Park Veterinary Surgery in Newent where she had been taken and looked after her until she was moved to the rescue centre.
He said he did not think Willow would survive because she was so thin.
"She was really emaciated and frightened of people," Mr Carpenter said.
"As a dog lover it was really sad to see.
"But now she looks healthy and beautiful although she is still scared of people."